We want to let our clients and stakeholders know that New Zealand's response to the Covid-19 pandemic should not cause any significant disruption to the level and quality of service that we're proud to deliver.
You can reach us via our office phone numbers and email addresses and get in touch with your adviser directly.
We have also invested in state-of-the-art technology which means we can continue to serve you in a number of agile ways. Here's how.
How do I join a Grant Thornton online meeting?
Microsoft Teams is our primary collaboration application. When you receive a meeting invite from us, the organiser will have added a Join Microsoft Teams Meeting link to the email. When it's time to attend the meeting, simply open up the meeting invite in your calendar and click on the link (circled below in red):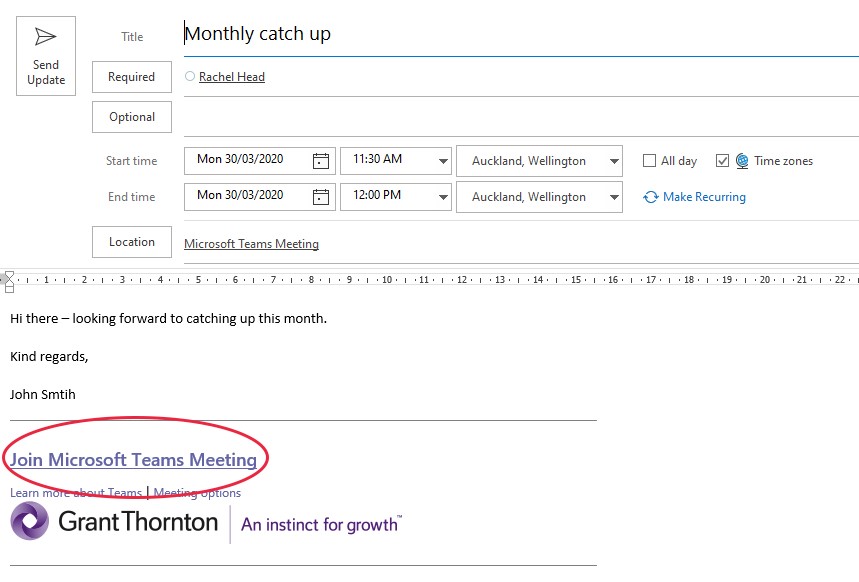 When you click on this link, you will be given the option to either join via your browser as a guest, or download a complimentary version of the Teams desktop application. If you already have Teams installed on your computer, the meeting will open automatically in Teams when you click on the link.
You will then see a 'Join Now' button and options to turn your camera and microphone on or off: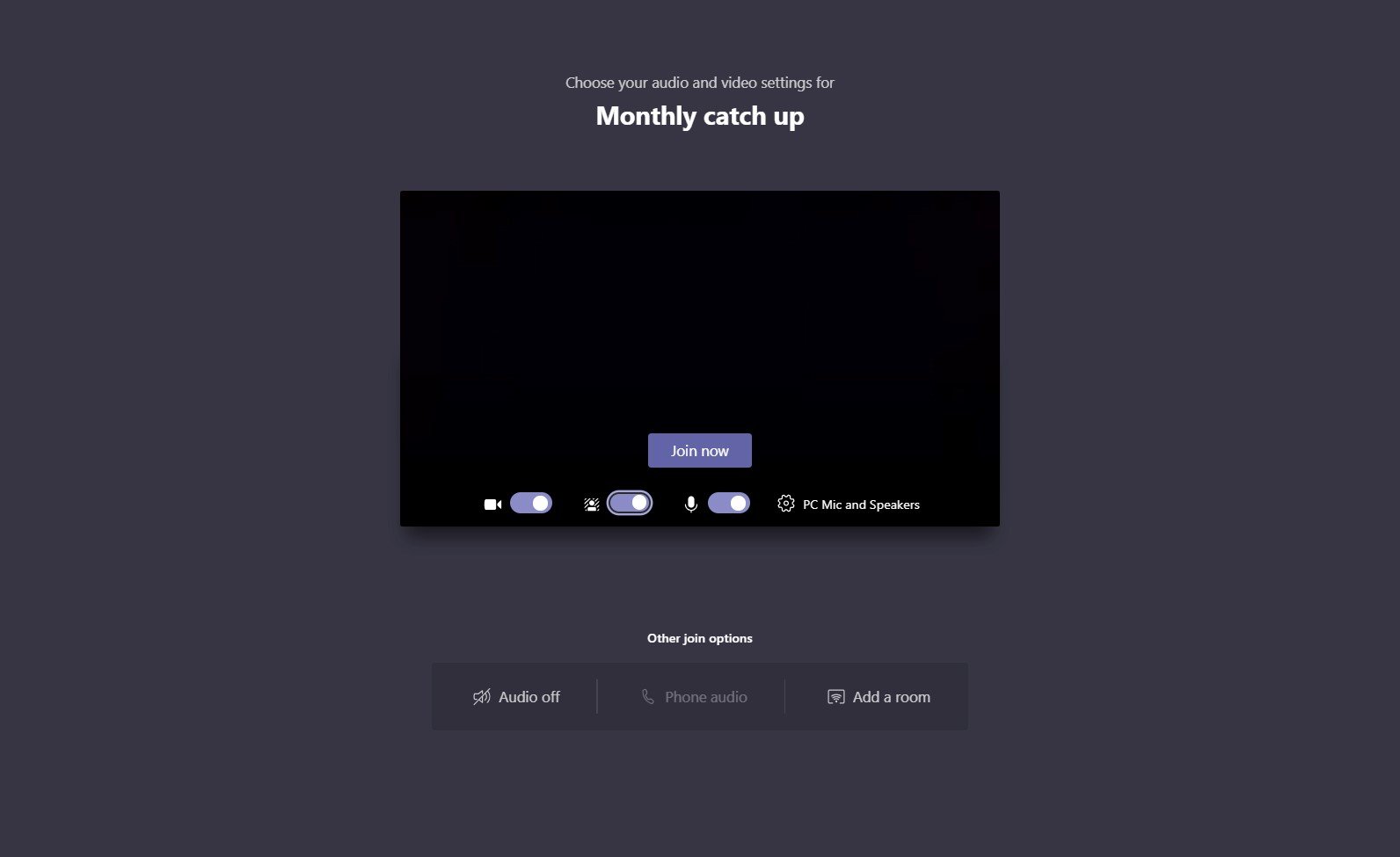 How do I collaborate on documents with Grant Thornton?
We use the cloud capabilities of Office 365 when:
you want to provide us with working files, statements and other documents

we want to provide you with files, final packs, documents to sign.
If you want to provide us with any documents, let us know, and we'll setup a folder which you can easily drop them into. We'll send you a link to the verification prompt below; click on 'send code' and a one-time verification code will be sent to your email address.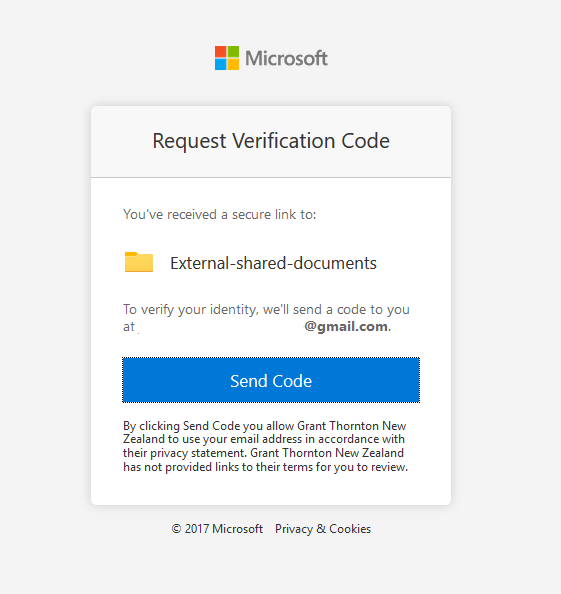 Once you have entered the code, you will be redirected to the shared folder we have setup for you. You will either be able to see the files we have shared with you, or upload your documents for us to access.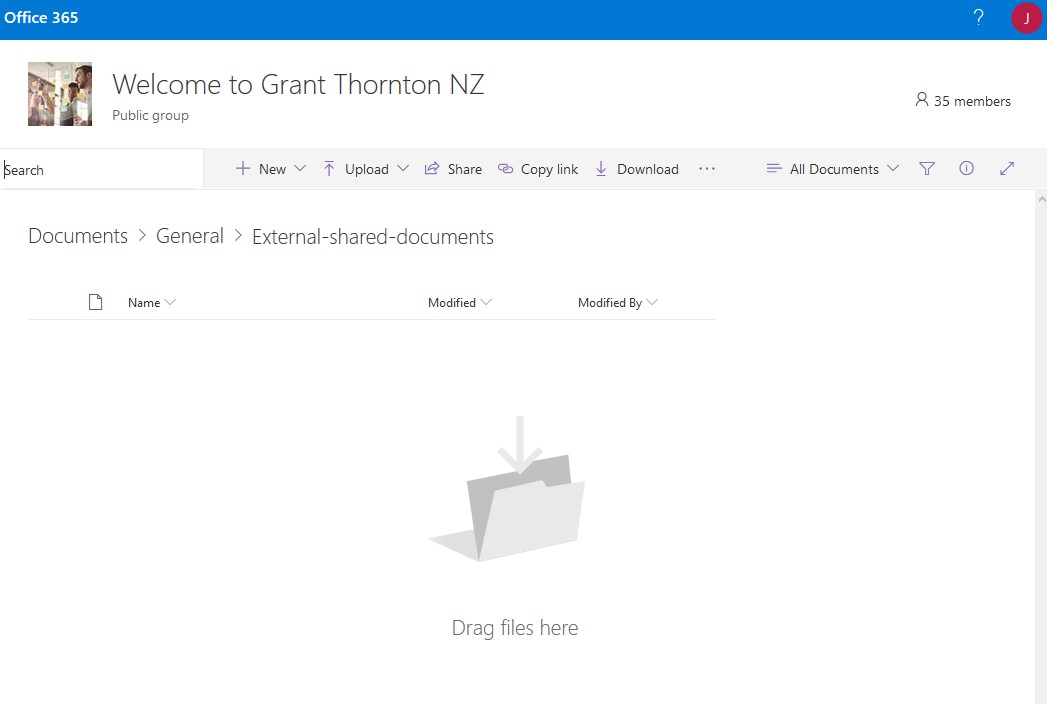 Once this file has been set up, you and your Grant Thornton team will have the ability to access these files and update them as and when required.
Need more information?
Visit Microsoft's website here.
How do I know that this technology is secure?
At Grant Thornton New Zealand, we take cyber security very seriously. We have invested in all required cloud based security applications necessary to achieve a level of ISO27001 compliance, and we are also GDPR and PCI compliant.
We use the following tools to keep client and company data safe while working in the cloud.
Data Loss Prevention
Azure information Protection
Advanced Threat Protection
Mobile device management and security
Rights management
Multi Factor Authentication
Enterprise Mobility and Security suite
To help with file sharing we use SharePoint Online. Here are some details about how that helps secure file sharing with our clients.
Authentication:
Only users invited to the shared folder can access it. Any client that has been invited to use the SharePoint Online folder will be asked to login using their Microsoft account to verify their identity.
Any client that does not have a Microsoft account must go through a separate 8-digit Account Verification Code process. Clients are responsible for any actions and related consequences due to their sharing of user IDs and passwords to the SharePoint site with others.
Access management:
GTNZ will maintain a list of those with access to the folder using the SharePoint audit management.
Encryption:
Documents loaded into the SP environment are done so over SSL. Therefore, uploaded documents are encrypted at 2048bit in transit.
Documents are encrypted at rest using (AES) – 256.
Anti-Virus and Malware:
The SP environment at GTNZ is protected by Antivirus and Antimalware applications.