Four small tweaks to the Government procurement rules – you'd think there was nothing to talk to about. Yet the flow-on effects from the changes in the 4th Edition of the procurement rules are so significant, they have the potential to transform New Zealand's entire economy.
When you consume $41 billion in goods and services each year, any change in the way you shop has the power to put the whole market on notice.
Conscious consumerism is changing the way we spend
Traditionally, the procurement process has focused on obtaining value for money directly from the good or service. Then came a focus on good planning and management, fairness, whole-of-life cost, and transparency. But modern consumers want more from their products and services. They want sustainability. They want ethical production methods. They want to know that what they buy isn't going to damage the earth, contribute to modern slavery or undermine animal welfare. They'll even boycott or protest a company that is utilising practices deemed unethical.
Conscious consumerism is about voting with your dollar; shoppers are increasingly happy to pay more for the products and services that contribute to social good. Consumer dollar-voting has driven the rise of free-range bacon, traceable infant formula, biodegradable cleaning products, and millions of other goods. Its influence is felt in every sector, every product and every service.
We already know this Government is aiming to embrace many of the principles that guide conscious consumers. The 2019 Wellbeing Budget demonstrated this comprehensively; in essence it said, "We're prepared to spend more in an effort to address ethical concerns."
Public value and a new Supplier Code of Conduct
Now that approach has been extended into its Procurement Rules. The 4th Edition includes changes in four main areas, which will come into effect 1 October this year:
New rules on procurement capability, reporting and planning
Targeting public value though considerations of broader outcomes
Changes to construction procurement and industry upskilling
Removal of three outdated rules
There has also been the introduction of a Government Procurement Charter, setting out the Government's expectations of how agencies should conduct procurement activity. Among other expectations, agencies should look for new and innovative solutions by not overprescribing tender documentation and giving businesses opportunities to demonstrate their expertise.
A Supplier Code of Conduct has also been formalised, which sets out new expectations in the areas of:
ethical behaviour
labour and human rights
health and safety
environmental sustainability
corporate social responsibility.
All will be influential, but perhaps the biggest change is in the 'broader outcomes'. The five principles of Government procurement remain in place, with each expanded to include elements of public value. That means using resources economically and taking into account the net benefits of a procurement, its contribution to specific results and broader outcomes for the country.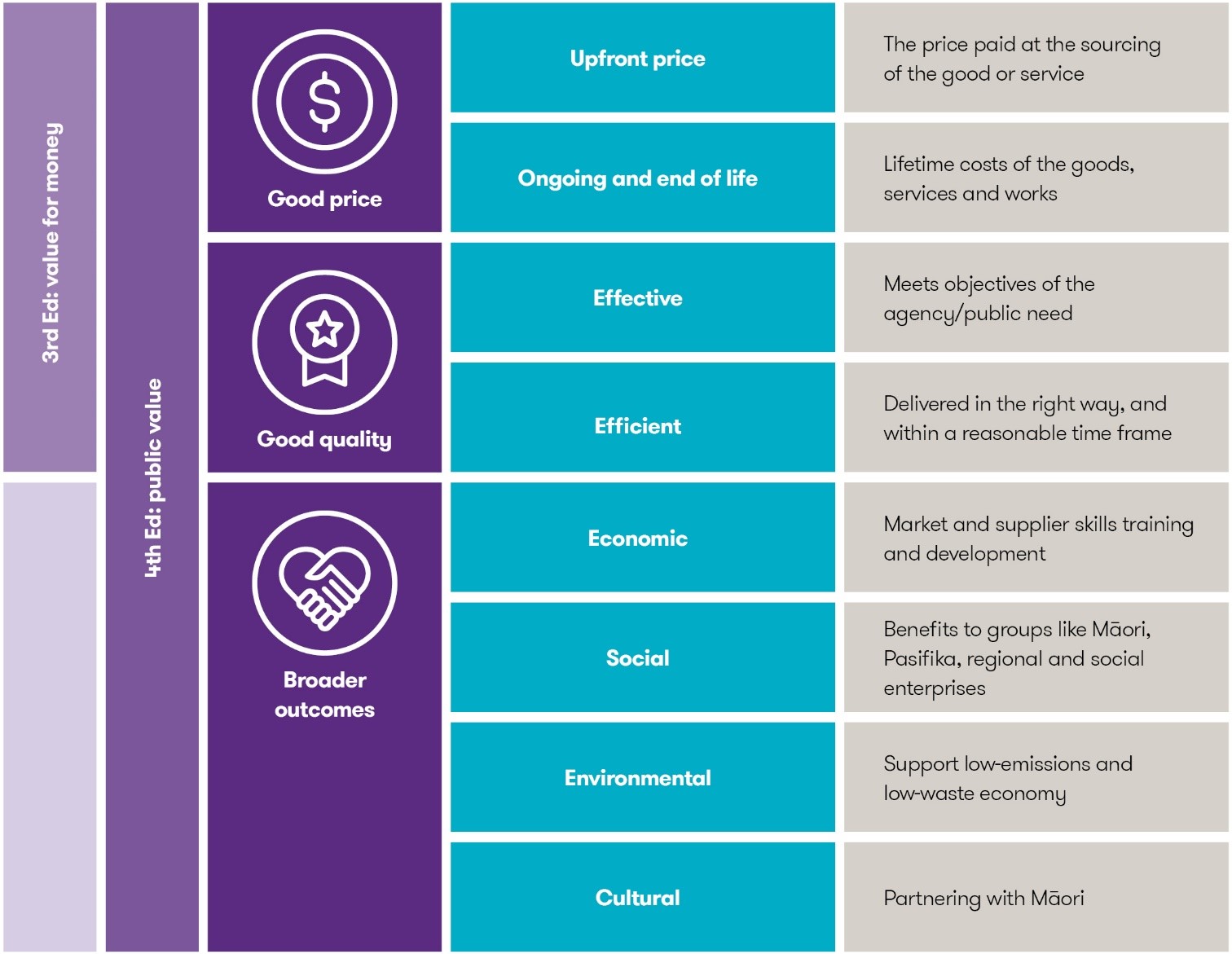 Source: Government Procurement Rules 4th Edition
What do these changes mean for Government agencies?
In short, agencies will need to consider many more factors when they undertake procurement and find a balance between value for money and broader outcomes. Many suppliers will need to be asked about their supply chains, their workforce planning and their emissions, among other things. There will need to be more reporting to MBIE and more supplier audits to ensure compliance, which might require tracing a supply chain as far back as New Zealand's border. Agencies will need to consider tricky issues such as how to deal with suppliers changing sub-contractors mid-contract and how to encourage New Zealand business participation - while not breaking international treaty obligations.
The preferred supplier panels have been streamlined, but it's going to be more difficult to use suppliers outside of some All of Government panels; in some designated contracts an exemption might be required. Simultaneously, agencies will be expected to look more broadly for involving local businesses, social enterprises and Māori or Pasifika organisations in supply chains.
Public service entities, Crown entities and agencies must follow all the procurement rules. For other state sector entities, the rules are either 'expected' or 'encouraged', but our understanding is that Ministers are pretty determined for these agencies to achieve full compliance to the new rules.
All agencies will need to adhere to the new Government Procurement Charter, as well as the five Principles of Government Procurement. This is a less-prescribed way of instructing smaller public sector entities that they should be aligned to Government objectives and getting the outcomes it desires – but they have flexibility in how they do it.
The rules outline seven designated contracts to focus initial efforts in targeting priority outcomes. One of these is for agencies to measure and reduce their fleet emissions. This is low-hanging fruit as far as the Government is concerned; it's easily quantifiable and agencies are expected to have emissions-free fleets by 2025/26.
Agencies are going to be busy. Not only will fleet managers start shopping for hybrid and electric vehicles, but procurement teams are going to have their plates full with additional considerations in tenders and supplier audits. We would expect to see them recruiting new team members and upskilling to meet their extra responsibilities.
Who do the rules apply to?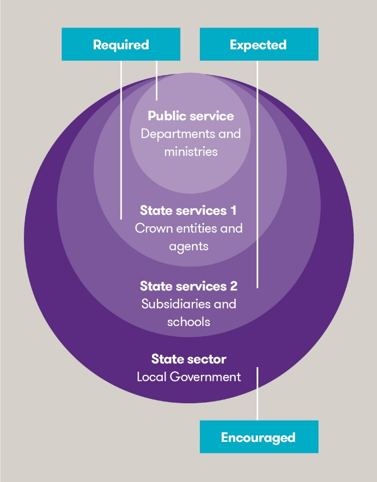 Source: Government Procurement Rules 4th Edition
Leading change from the top down
With the right planning, leadership and execution, the new Procurement Rules should lead New Zealand toward a more sustainable future and drive local business and investment. Change won't be immediate; the suppliers who can start showing alignment to the new objectives are likely to start winning more Government tenders after 1 October. Smaller suppliers and subcontractors will likely follow suit as the new broader objectives start to shape New Zealand supply chains.
Similarly, the biggest Government agencies are already working on adopting the new rules – in some cases their procurement teams helped to shape them and the rules are just catching up; they will likely lead the way in developing standard operating procedures for implementing the new rules. Their work will blaze a trail for smaller agencies to follow.
And on an even wider scale, the Government's conscious consumerism is leading by example for the rest of the market. By using its $41 billion consumer superpower for good, I think we can expect to see the market move in step.