The official report on our building supplies market is out, and the conclusion is a masterclass in understatement: competition "is not working as well as it could".
The Commerce Commission's year-long
Market Study into Residential Building Supplies
was released in early December, and it confirmed what everyone in the industry already knows – our adherence to specific products is undermining competition and damaging the sector.
A vicious cycle caused by consenting, liability and delays
Nothing in the ComCom report will come as a surprise to you if you work in the building industry, or follow the news. The key findings are:
The building regulatory system favours specific familiar brands. Plasterboard is the most well-known example, where GIB is used by 95% of the market. ComCom also considered ready-mix concrete and structural timber.

Merchants may be rewarded with rebates for buying large quantities of familiar products. This keeps the price of these products down for the merchants, so it's harder for new products to get a foothold in the local market.

Retailers often have leases and covenants that keep competitors from setting up nearby, which has the potential to reduce competition.
One diagram in the report succinctly explains how this problem has become entrenched. It demonstrates how concerns about a new product will cause delays - and nobody wants delays - so nobody takes a risk on a different brand. Our own behaviour is trapping us in this problem: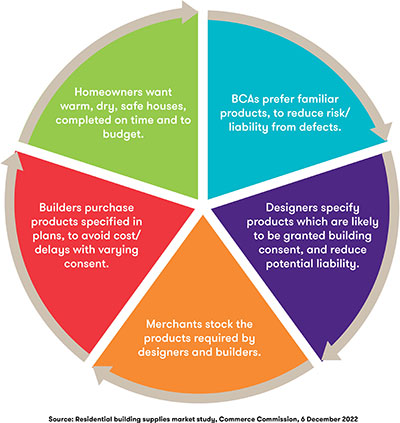 Will this report actually change anything?
This report isn't ground-breaking, but at least the problem is now set out in black and white. That's helpful, because stakeholders can now engage with the report, discuss it with suppliers and merchants, and think about how the problem is impacting their business.
But it won't be easy to increase competition. We have a small and isolated market with low variety, which reduces competition. This is an issue that MBIE discussed in a 2016 paper which noted "competition is weak in New Zealand" because of our distance from major markets and lack of scale. There's very little we can do about that.
We could remove the quantity rebates for manufacturers, and it looks as though this will happen. But it seems highly likely the rebates will be replaced with volume discounts, so will it make a genuine difference? Everyone in the industry wants to cut down the risks of time delays and cost overruns. If the old favourites like GIB are still cheaper, and they're still consented more quickly, the industry will stick with them.
We know there are competitor products that meet the stated standards for construction, but nobody wants to stick their neck out and use these unfamiliar brands. Nobody wants to increase their odds of consenting delays, costlier materials and unhappy clients. Particularly at a time when the construction industry is facing an array of other headwinds, including a recession looming on the horizon in 2023.
There's one major player who could shift the entire market
Despite this report saying we need more competition, and making some useful recommendations, there's really only one player in our construction market that can actually change our entrenched behaviour.
Kāinga Ora is our biggest developer and the construction industry's largest client by some magnitude. It has big budgets, it can fast-track consenting on its projects, and it won't be slowed down by a recession. Because it's such a powerful force in the industry, decisions made by Kāinga Ora reverberate through the whole sector. Once its projects are using alternatives, that will empower smaller suppliers to show what they can do. With a three-year supply arrangement to Kāinga Ora, for instance, any business would rise to the occasion to ensure they could supply their new biggest client.
Earlier this year Kāinga Ora set up a plasterboard taskforce, which named four GIB alternatives that can be used: Elephant Board, USG Boral, ProRoc and SaveBOARD. Kāinga Ora is also compliance testing for a Thai product, to help "wean itself off its dependence" on GIB. These are excellent first steps, but if the Government wants to see change in the industry, it must support Kāinga Ora to do more, and do it faster.
A few quick wins would help kick-start the change
Among the recommendations made in the report, most require the Government or a council to 'develop', 'investigate', 'explore', 'consider' or 'establish', all of which typically take years. But a couple of ideas stood out as potentially quicker wins, including expanding the range of acceptable product certification schemes and increasing flexibility in the MultiProof scheme.
If these can go ahead in 2023, along with removing rebates and a commitment by Kāinga Ora to embracing alternative brands, it's possible we could see a genuine shift in the market by this time next year.